It's an exciting day. Your Invisalign Clear Braces are in and your dentist is fitting your first set. Finally, your on your way to straight teeth and a healthier smile.
Days, maybe even weeks go by and your loving the transformation of your new smile, but wait a minute, what's that smell? Do you smell it? Is that coming from my mouth?
Ok, it's not so dramatic. Invisalign odor is very common and usually happens to the best of us. So what should you do if this happens to you?
There are a couple of things that can be done to clear up the odor in your Invisalign Aligners:
Invisalign Tips #1: The most common and recognized is simply brushing your Invisalign Aligner after every meal just as you would your teeth. Minimum you need to brush your Aligners at least every night before bed and every morning when you wake up. The morning is crucial as it will help get rid of your morning breath.
Invisalign Tips #2: Floss your teeth on a daily basis. Flossing is always forgotten, yet a very important step to not only a healthy mouth, but for bad breath as well. Food particles get stuck in between your teeth and stay there until you floss it out, but until then they begin to stink…yuck!
Invisalign Tips #3: Not only is rinsing with an antimicrobial mouth wash very important for your mouth, it can also act as an odor killer for your Invisalign Braces as well. Here's what you do; In the morning when you wake up brush your Aligners first. Then fill your retainer case full of Antimicrobial Mouth Rinse, then drop in your Aligners. Let your Aligners soak while you brush your teeth, which should be for a good 2 minutes. When your done, take your Invisible Braces out and rinse off with water. Then put them back in your mouth and your on your way with odor free Invisalign Aligners!
Most Invisalign users do steps one and two, but never think of step 3, soaking your aligners in mouth wash. If you have a really bad case of bad breath then I suggest using mouth wash a few times a day and brushing after every meal. Just a suggestion.
If you are in need of a good mouth rinse, click here and see if this takes care of it.
For those of you who are interested in curing your bad breath in 90-seconds I came across this cheap ebook today that provides some great information. Here is just a brief of what it talks about:
Extinguishes Your Bad
Breath… In 90 Seconds Flat!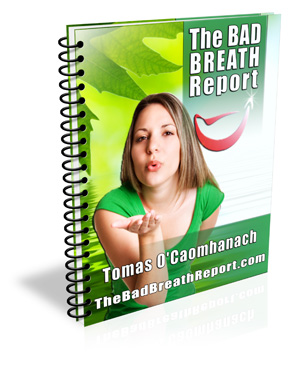 Just rinse your mouth with this in the morning to keep your breath fresh all day. It's NOT water, but it's almost just as cheap. You can easily get a big 16-fluid-ounce bottle for only $0.99… and that's more than enough to last you for an entire month. And you can get it easily from drugstores everywhere, without a prescription.
How to deliver the "knockout punch" that will wipe out your bad breath forever!


How to easily make your own "super mouth cleanser" that leaves your breath clean and fresh. (You probably already have the ingredients in your kitchen… if not, you can get them at the store for pennies!)


Another "almost-magical" ingredient that doubles the effectiveness of your super mouth cleanser!


Yet another ingredient you can add to your super mouth cleanser to make it taste extra good!
For more information on this click here.
Wow, we covered a lot. I hope this was helpful for you in solving your Invisalign Odor and bad breath in general.
To have more great Invisalign articles delivered to you instantly I highly recommend subscribing to our RSS feed. It's fast, simple and free.
Thanks for reading,
J. King
Information Guru